Picture shows Residential Electrical Workshop shot by Samantha Ogletree
home improvement noun. the addition to or alteration, conversion, improvement, modernization, remodeling, repair, or replacement of a building or part of a building that is used or designed to be used as a residence or dwelling place.
If you're thinking about getting into a home improvement project soon, this workshop is for you.The home improvement industry keeps growing every year, so learning basic skills for home remodeling is a good base to grow professionally. Detroit Training Center strives to teach and provide our students with the knowledge, skills, and tools to empower themselves and their community. You'll receive the materials, facilities, and environment necessary to accomplish your goals.
the workshops | COMING SPRING 2019
DTC's Home Improvement Workshops (also called our "Saturday Homeowner Workshops") are two-hour hands-on home improvement courses we offer every weekend. The topics of each course rotate throughout the year and are geared to provide basic fundamental knowledge for those looking to learn do-it-yourself home repair or renovation. The workshops do not result in a certificate or license of any kind--they are designed to establish a foundation for basic home renovation projects (kids are welcome, too!). Our Residential Builder's License Program and Tiny House Construction Program include the workshops that occur during the time of their prospective program. Some of our workshops are catered specifically to special interests, like tiny houses or off-grid power.
Residential Plumbing
Window Restoration
Kitchen Backsplash
PEX Plumbing
Home Solar Panel Setup
Building a Loft
Ceramic Tile Showers
Garbage Disposal Installation
Tiny House Plumbing
Vinyl Siding/Trimming
Pallet Furniture
Roof Repair
Painting
Residential Inspections
Drywall, Mudding, & Taping
Residential Electrical
Modern Window & Door Installation
Starting a Home Renovation Project
Rough Carpentry
Hardwood Flooring
Ceramic Tile
Tiny House Design
Kitchen Cabinet Installation
Kitchen Counter Installation
Home Rain Garden
Tiny House Rough Carpentry
...AND MANY MORE!
cost
$70 for 1
$120 for 2
$300 for 6
Call (313) 221-5876 to Register
schedule
3.5 Hours
Currently only Saturdays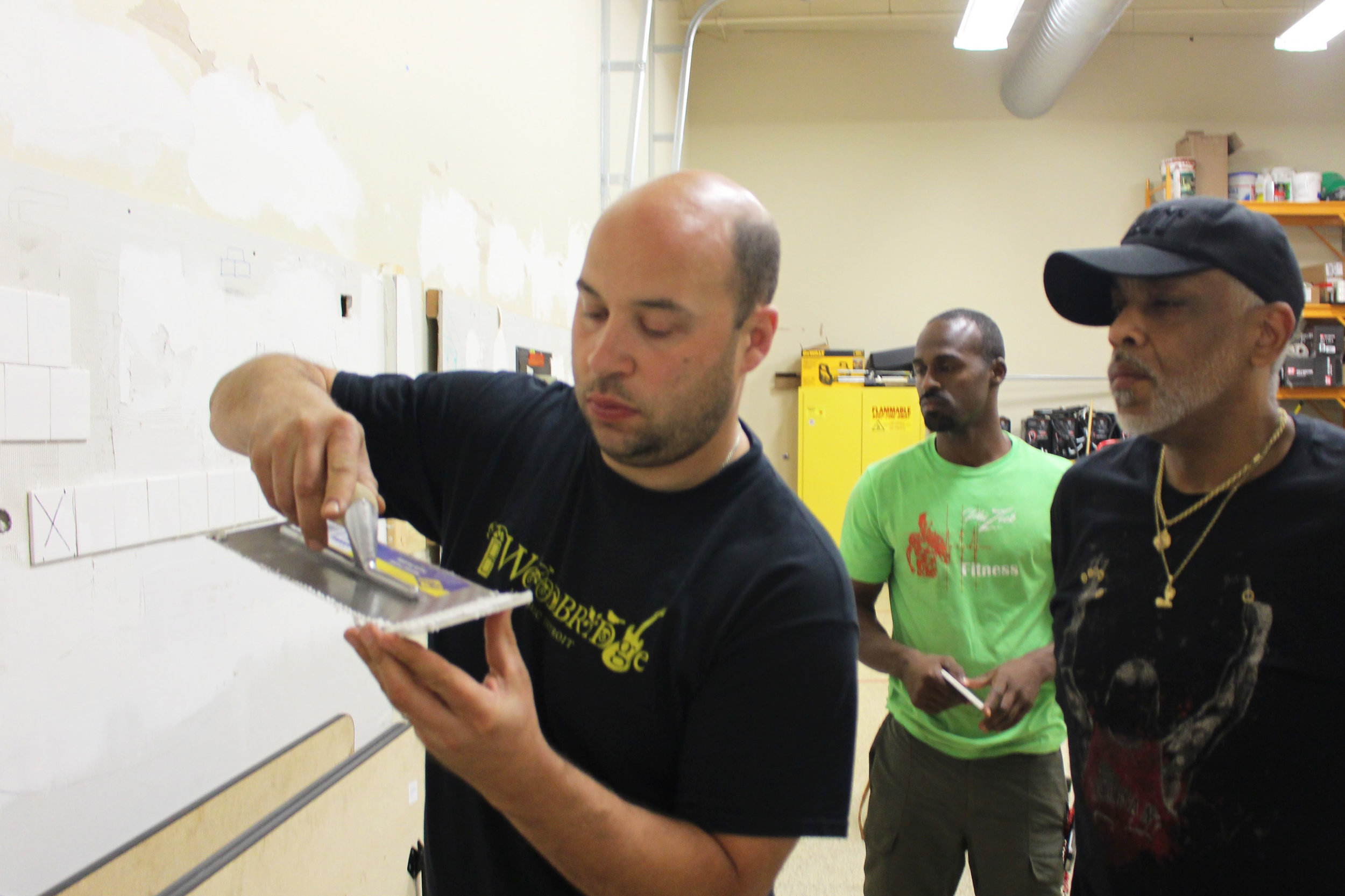 home improvement workshops
WANT TO BE AN INSTRUCTOR?
Skilled and trained specialists within their trade are welcome to request to host their own Home Improvement Workshop. Please think about what you would like to teach and the materials required and give us a call at 313-221-5876 and ask to speak with Patrick.